Main content starts here, tab to start navigating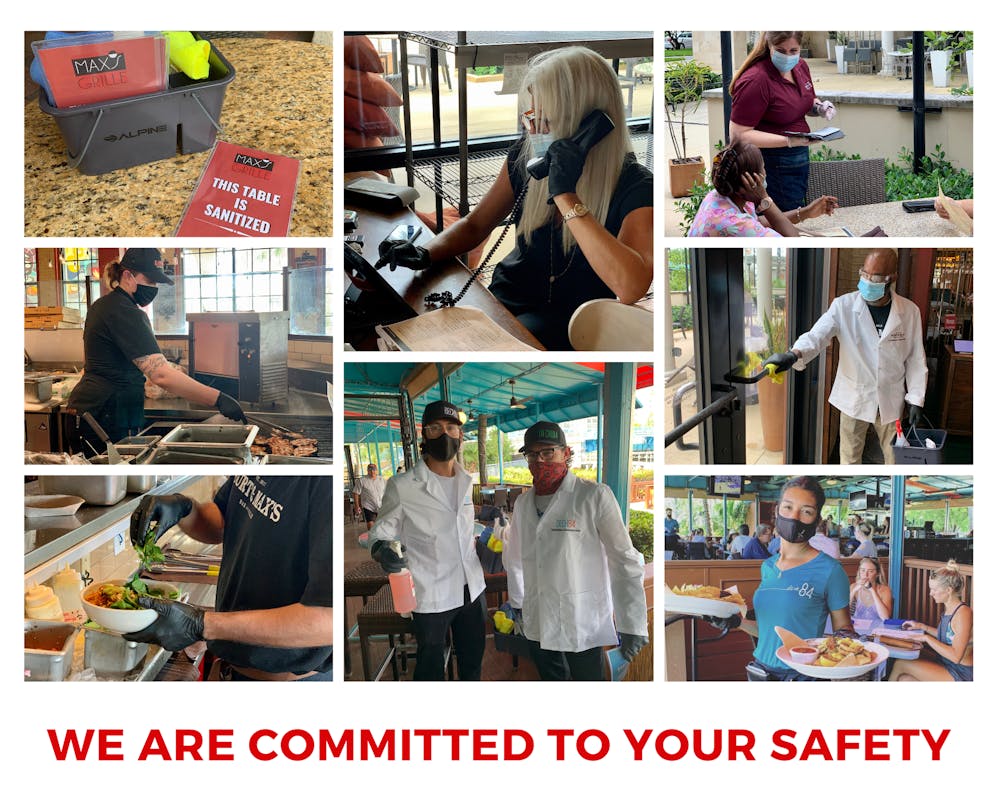 It's extremely important to us that our staff and guests feel safe and comfortable in our dining establishments.
We are constantly evaluating and enhancing our protocols as we navigate through these times. One thing that won't change? Our commitment to your safety!
Our ever-evolving list of protocols include:
Social Distancing - Tables in the dining room and outdoor patio spaced 6ft apart


Sanitation Administrator - their sole responsibility is to sanitize tables and chairs after each use, sanitize all touchable surfaces throughout the restaurant continuously, and sanitize restrooms.
Using QR code touchless menus or one-time-use disposable menus
Training & Education - Every employee has completed a COVID-19 Restaurant Sanitation & Safety workshop along with daily shift meetings discussing protocol enhancements, reminders & COVID updates from CDC, WHO, John Hopkins Hospital, Florida Restaurant & Lodging Association, etc.
We are ready to serve you safely! Plenty of outdoor, covered or shaded seating spaces.
WHAT OUR GUESTS ARE SAYING....
Jeannette S.
We recently moved to Boynton Beach and have been so gratified to see how well you have handled this covid craziness with your Burt & Max restaurant. We have recently walked out of some of the best restaurants in Delray and Palm Beach due to their lack of care in this regard, and ended up right back at B&M each time for a good meal, great service and attentiveness to cleanliness and distancing. Starting with Rachel at the reception desk, and all through to the end, you are exemplary in how to run a good restaurant, respond to the changing times, all while making guests feel welcomed and cared for. Kudos to you and your staff!
Opentable Guest
The food and service is always excellent, as it always has been. I appreciated the additional, extra precautions they are taking with regard to COVID 19. I will certainly return and encourage others to visit/return as well.
Julie
Wonderful, outdoor dining experience. Our waitress was exceptional. Due to Covid 19, all precautions were in place and we felt very comfortable dining outside.
Opentable Diner
Burt & Max's handling of social distancing requirements was excellent and greatly appreciated.
Shayley
Two friends and I went for lunch and ate outside. Burt and Max did an excellent job following the guidelines for the coronavirus. Everyone wore masks and gloves, tables were spread apart and constant cleaning was taking place. The service was excellent! When drinks were half-empty another was brought to the table without asking. Can't beat the 12 for 12 selections. Definitely the place to go if you're hesitant about going someplace to eat due to safety and social distancing.
Mel S.
We were very happy with our experience at Burt &Max last night. We had reservations on the patio which were honored. The tables were at least 6 feet apart and the staff all wore masks and gloves. As tables were vacated we saw a cleaning person spray and wipe the table and all the chairs. The waiter was excellent. The food was good.
Gail S.
The service, attention and food are all exceptional. One of my favorite places for a quiet lunch or a group lunch in their back area. The servers are all attentive and friendly. Sitting outside during Covid we saw regular sanitizing going on of tables and door handles. All servers had masks and it was a nice diversion from being stuck inside for so long
William W.
Burt & Max's has always been great. Excellent food and service. They are even better now, coming back from the Coronavirus. They are being extremely conscientious about cleanliness and sanitation. The dinner wear is as spotless and clean as a 5-star restaurant. The staff members wear masks, but they still smile with their eyes. A GREAT EXPERIENCE ALL AROUND!!!!!!!!!!!!!!!!
Madelyn P.
Excellent..everything was sanitized, everyone was socially distanced and the food was excellent..our waiter was terrific. So happy they are open and people are working. The hostess was welcoming and enthusiastic to be back..give them your business. Well deserved.
Alex D.
What a great place! Took my girlfriend to Burt & Max's for lunch earlier today. Any concerns we had about dining out in this new post-COVID19-lockdown environment were quickly relieved as we arrived and were sat outside on the patio where our table held a sign stating it had been sanitized prior to our arrival. Seating was spaced far apart enough that we felt at ease. High marks to our server, Joey, who immediately greeted us (wearing gloves and face mask) and was spot on in recommending the Crispy Brussel Sprouts and the Onion Soup Dumplings as our appetizers, which were both amazing. We then enjoyed the Blackened Fish Tacos and the Salmon/Shrimp Burger, along with a few cocktails. Joey was very attentive and knowledgeable on the menu and cocktail list. We couldn't ask for better service.
Opentable Diner
It was the first time we dined out since the quarantine started and we felt very comfortable and safe. The staff wore masks, someone constantly wiped down the front door handles, they used paper menus and every other table was set up for dining. Food was excellent as always, server delightful and we look forward to going back soon.
Opentable Diner
They are truly embracing the new normal, cleanliness , paper printed menus that they collect and toss, masks... socially distant tables, the works! And the food is good, service very attentive... returning most definitely!
Opentable Diner
Given the circumstances of what we are going through now, I have to say the staff at Burt and Max's are doing an outstanding job! We went on the early side so even with only a 25% limit on capacity, the place was not too busy. The waiter was excellent and the food was very good as well! They were very conscious of keeping the place sanitized! Private
Eileen R.
he restaurant went all out to make us comfortable. We were seated at a table outside which was at least 6 ft away from another. The food and service was great. They took every precaution . We felt very relaxed and enjoyed our meal.The staff was wonderful.
Pam S.
With COVID19 they did an excellent job sanitizing after the entire party left. Waited an unusual amount of time for our cocktail/appetizer order to be taken, but otherwise another fun time with friends.
Ruby
Always impressed with this restaurant. The Rapoport Group know how to run a place. There were many servers helping out and food delivery was right on point. Restrooms were sanitized and all wore masks. I feel very safe at Burt and Max, and will definitely return.
Betty C
finally got a chance to dine out and it wasnt a disappointment. As usual we asked for Joey who now goes by Joseph on his printed checks. no hug but a very warm welcome. He informed us of sime new menu changes and protocols of sanitation that are still being enforced since our last visit he pointed out the man in a lab coat and his duties. we had all new appetizers like the brie pillow and fried zuccini with homemade mozzarella. since it was 3 in afternoon we stopped at the appetizers and shared a gotham salad. we felt safe n comfortable and look forward to our next visit at dinner time.
Keith L
Absolutely incredible dining experience, Safe. spaced, cleaned and the staff was fully trained in Covid process. Then there was the food. Incredible! Tried the new menu item which was the pork tenderloin. OMG! iNCREDIBLE!!!!!!!!
Anonymous
Always enjoy dinner there. Menu varied enough for all tastes and well prepared as ordered. All current health guidelines followed for a comfortable evening.
Steve R.
First time for us - We are always concerned about the restaurant's compliance with social distancing, we were comfortable with the measures in place. Our party of 4 enjoyed not being rushed, allowed to take our time - there's good variety in the menu, creative items like - French Onion Soup dumplings as an app. Try them - along with the Brussel Sprouts! Dinner was very good as we enjoyed Burgers, Pork Tenderloin, Swordfish & I believe it was a Korean Beef Bowl! Yummy desserts.
Anonymous
Staff was very attentive in maintaining all areas and social distancing. Food was fresh and delicious. They have a special lunch menu that is reasonable and a variety of choices. A great value and enjoyable experience.
Anonymous
We were seated outside on a windy, cloudy day. Everyone in our party of four selected an item from the 12 for 12 menu....Our server was very good, we were socially distant from other tables, and the hostess brought us items not on the table, as requested, promptly.
Andrea U.
Very pretty restaurant we enjoyed sitting outside more than 6 feet away from other tables. Very nice drink menu my wine my husband's mango drink were delicious. The caprese eggplant salad was excellent and the pizza was OK. Service was great they were very good. The open kitchen looked clean & inviting.
Susan R.
Excellent the SHORT RIB dinner was wonderful reservations were accepted and COVID19 restrictions were in place and I felt very safe.
Betty C.
finally got a chance to dine out and it wasn't a disappointment. As usual, we asked for Joey who now goes by Joseph on his printed checks. no hug but a very warm welcome. He informed us of some new menu changes and protocols of sanitation that are still being enforced since our last visit he pointed out the man in a lab coat and his duties. we had all new appetizers like the brie pillow and fried zucchini with homemade mozzarella. since it was 3 in the afternoon we stopped at the appetizers and shared a Gotham salad. we felt safe n comfortable and look forward to our next visit at dinner time.
Anonymous
Always a great meal, and prices are good.we ate outside, plenty of well spaced tables. Staff compliant with Cdc guidelines. Felt very safe. The inside was pretty empty and the window which is huge behind the bar was open and fresh air was blowing inside too.